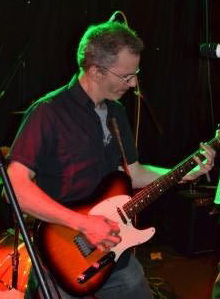 The following paragraphs provide some general useful information, but if there's anything that's not covered, or if you have queries or simply want to investigate a bit further, then don't hesitate to contact us.
In particular, we strongly recommend that you contact us to explain and discuss your exact requirements before confirming arrangements with venues etc — the information on these pages is offered as a general guide and should not be taken as exhaustive, nor will it be equally applicable to every event.
We will play a mix of classic 50s and 60s numbers together with a selection of the best songs from the 70s to the present day. We can provide a sample set list, which should give you an idea of the sort of stuff we do, and you can hear some demo tracks here. For weddings, we also have a standard selection of "first dance" numbers, but we're equally happy to do one of your own choice (provided that it's suitable for our line-up!), given enough notice. Likewise, our set list is just a guide — our repertoire's much more extensive than that, so if you have an all-time favourite song or two, let us know! We can't promise, but we'll see what we can do!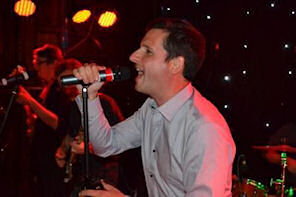 We'll normally play two sets of around 50 minutes, with a short break (around 20 minutes) in the middle. From experience, this is the optimum length of performance.
Depending on the type of event you're organising, you may need to give some thought to the periods when we're not playing (e.g. in between sets, and after we've finished). The obvious choice for some functions is to book a disco, but nowadays, we've found that the preference of many people is to produce some compilation CDs or iPod playlists of their favourite songs and have those played through the PA instead — that's no problem at all, but please let us know in advance, so we can be sure to bring the right bits along.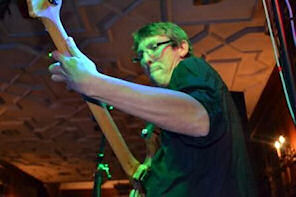 Whenever possible, we prefer to get into the venue, set up equipment, soundcheck and then disappear before guests start to arrive, as it looks far more professional and we'll be ready to start playing as soon as possible after the formalities have been completed. However, if this is not possible (e.g. if the room is going to require re-organisation and removal of tables etc before we can get in and set up), then we'll need about 90 minutes from gaining access to the room until we're ready to play. If this is the case, then it's often very helpful if we can be allocated a nearby room to at least get things unloaded, out of cases and half set up, which can save some time!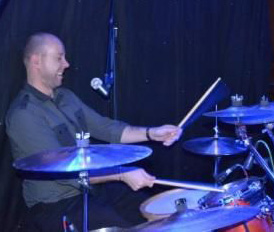 You'll need to make sure that there is enough space in the venue for us to set up (making sure there's still enough space for people to dance!) As a minimum, we need a space about 18' wide by 10' deep (or 5.5m x 3m, if you prefer)
Please bear in mind that live rock'n'roll is loud. It's worth checking with your chosen venue that they're happy with a live band performing, before you confirm the bookings. We can, of course, tailor volume levels to suit the space we're playing in, but there are limits — if we have to keep everything too quiet, it's impossible to get a reasonable sound. If you, or the venue, have any concerns, please check with us well in advance.
Our package includes a PA (sound) system and engineer, and a basic lighting rig. Depending on the size and set-up of the venue, the PA can also potentially be used for speeches.
The standard PA and lighting rigs that we provide are adequate for a small-to- medium-sized venue — but if your room is on the larger side, or you want special or more complex lighting effects, then you may need to consider additional sound and lighting equipment — which we can also provide, but which will incur an extra cost. You will also need to ensure that there is sufficient electrical power (the standard rig needs two standard 13A sockets). There are some more detailed notes on power supply requirements, particularly if you're intending to hire a generator, here, but please ask if you need advice on this.
Wherever possible, we charge a standard fee, which is currently £1250 — which doesn't sound cheap, we know, but it does compare very favourably with other live bands offering the same package as us. In addition, there aren't any hidden extras for travel, accommodation, food, expenses etc — although if the venue is particularly inaccessible, or the event time or duration of performance could be considered unusual, we invite you to contact us to confirm whether the standard fee will still apply.
Additional sound and lighting equipment if needed (as per previous section) will incur an extra cost, however — this will be confirmed in advance.